Satoshi (unit)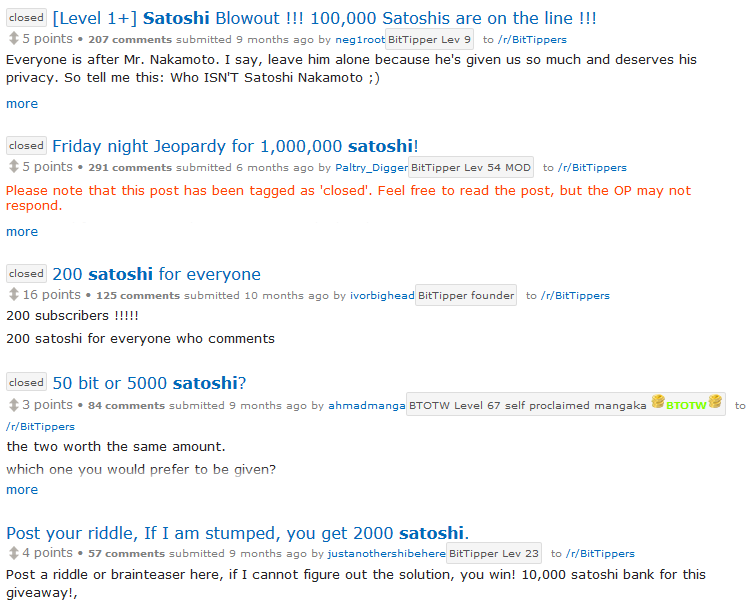 The
satoshi
is currently the smallest unit of the bitcoin currency recorded on the
block chain
.
[1]
It is a one hundred millionth of a single bitcoin (0.00000001 BTC).
[1]
The unit has been named in collective homage to the original creator of Bitcoin,
Satoshi Nakamoto
.
[2]
All amounts in the blockchain are denominated in satoshi before being converted for display.[3] The source code also uses satoshi when specifying an amount of bitcoin.[4] When displaying an extremely fine fraction of a bitcoin, such as when calculating fee per byte or a faucet reward, the amount is displayed in satoshi for readability.[5][6]
Although the satoshi is the finest amount that can be recorded in the blockchain,[3] payment channels may need to make very granular payments and so are sometimes denominated in millisatoshi, which are one hundred billionths of a single bitcoin.[7]
In January 2018, 1 Euro cent is worth approximately 83 satoshi.
History
The value of a bitcoin in satoshi was decided by Satoshi Nakamoto to be 100 million no later than November 2008.[4]
On November 15, 2010, ribuck proposed that the one hundredth of a bitcoin (0.01 BTC) be called a Satoshi.[8] Four months later he instead suggested that the one hundred millionth unit be called an austrian or a satoshi.[9] The name satoshi caught on, and was widely adopted thereafter.[2]
In December 2017, BIP-176[10] also proposed "Bits" be used as a standard term for 100 (one hundred) satoshis or 1/1,000,000 (one one-millionth) of a bitcoin.
Usage
Plural
Traditionally, the plural form has been simply satoshi,[11] but the term satoshis is also popular and equally correct. If the plural form were to follow the rules of Japanese grammar, it may be pronounced as satoshisa,[12] or simply satoshi.[12]
Symbol
Satoshi is often abbreviated to sat or s, although no currency symbol has been widely adopted. There are various proposed symbols:
| Symbol | Explanation |
| --- | --- |
| | Reminiscent of the Japanese aesthetic, the closest character being 丰 meaning: "Bountiful - abundant, lush, bountiful, plenty, luxurious growth of grass" which suggests a vast amount of Satoshi are still left to mine. This symbol has been adopted by multiple Bitcoin services including satoshilabs.com (Trezor), SatoshiCap.net, pricedinbitcoin21.com, Thunderhub.io, bitcoinicons.com, thebitcoinmachines.com, and many more. |
| 里 | In Japanese names, this character can (rarely) be read "satoshi". It is an uncommon Chinese/Japanese character on its own, and an infrequent radical (kangxi #166). It can be seen as a radical in the common kanji 理 and 量, used in meaningful words like 理想 (ideals), 理論 (theory), 理性 (reason), 理科 (science), and 量 (quantity). "Satoshi" is a rare reading; more commonly it is read as "ri" or "sato". |
| シ | A Japanese katakana representing the syllable "shi". Note that this character is extremely common in Japanese, so it could cause confusion. Also, it can mean "death" in Japanese and Chinese. |
| ㋛ | As above, but circled to distinguish it from the katakana. |
| し | As above, but this is the hiragana instead of the katakana. This is even more common than シ in Japanese writing, however. |
| サ | A Japanese katakana represents the syllable "sa". Maybe it looks more reminiscent of a currency symbol than others. Note that this character is extremely common in Japanese, so it could cause confusion. |
References