BitVegas
This page is currently undergoing a major edit.
To help avoid edit conflicts, please do not edit this page while this message is displayed.
BitVegas
was a casino based in Minecraft. It was among the first
Bitcoin-Minecraft
services.
It featured the most generous faucet of its time, yielding 0.002 BTC per hour to visitors.
Layout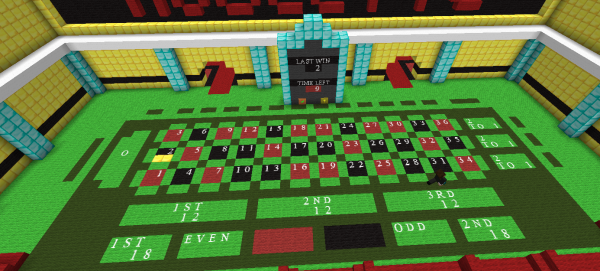 BitVegas was a six story building with an elevator connecting the floors. Across the six levels were a collection of games:
| Game | Floors | Bitcoin? | Game | Floors | Bitcoin? | Game | Floors | Bitcoin? |
| --- | --- | --- | --- | --- | --- | --- | --- | --- |
| Lottery | 1-4 | Always | Hold'em | 3 | No | Minefield | 2, 5 | Yes |
| Drinking | 1-5 | Always | Roulette | 2, 5 | Yes | Race betting | 4 | Yes |
| Slots | 2-5 | Yes | Blackjack | 3, 5 | Yes | Parkour | 6 | No |
Mechanics
Bacon Races
Drinking game
Slots