Skyroad
Skyroad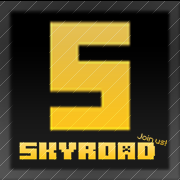 Skyroad
is a Minecraft Server with multible Game Modes.
The Server has its own economy called Taler and allows players to payout in Bitcoins. It is possible to use the Server as Faucet, voting every day gives the player a minimum of 400 Taler (0,00004) and five pieces Fortune Cookies, which can contain more Money. It is not possible payin Bitcoins.
Active Players can get more Money by playing: farming Resources, Jump and Runs[1], gambling and transactions with other Players.


Server IP: join.skyroad.me
Voting
The server is listed in a Minecraft Serverlist[2] and can get on the top of the List for votes.
To Vote, use the Command /help at the Spawnpoint of the Server and click on the chat message "[Voten]", after that, navigate to "Jetzt voten" and get the Money.
Gambling
Players who like to test their luck, can play on the Servers Casino.
There are some Slot machines, Hi/Lo Dice Game, Minefield Game and Skill Games. Use the Clock and click on the Gold Block to get teleported to the Casino.
Get Bitcoins
To get the Money into Bitcoins, only three Steps[3] need to be taken:
1. Type in your Bitcoin Adress using /btc <address> (Example: /btc 1MaXZE92yjuy4NYjTspmdWHMRT3jQUcTf4)
2. Check the Adress using /payout (Check, if the Address is 100% correct, step forward.)
3. Use /payoutok <amount> to send the Money to the Address, use the Server Economy as amount. (Example: /payoutok 15000)


Skyroad is trying to send the Bitcoins very fast, but it can take in some cases up to 24 hours for an approval. Exchange rate (14.09.2015): 1 Taler/10 Satoshis
References