Btceconomy
From Bitcoin Wiki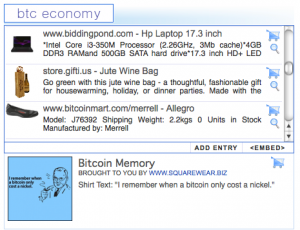 The BTC Economy plugin lists items for sale in the Bitcoin community in a live feed. Items are added to the plugin by a web-crawler that searches for merchandise for sale in the bitcoin community.
The basic purpose of the plugin is to make the Bitcoin economy discoverable. The large and diverse selection of merchandise featured in the plugin directly addresses the question of "what can I buy with Bitcoins".
A running version of the BTC Economy plugin may be found at Search Bitcoin. The plugin can be easy embedded into any webpage using the following line of Javascipt.
<script type="text/javascript" src="http://api.searchbitcoin.com/btceconomy"></script>
Many websites now use the BTC Economy feed. Notable sites include weusecoins.com and bitcoinme.com. The complete list of websites using the plugin may be found on Search Bitcoin
External Links