GHash.IO
GHash.IO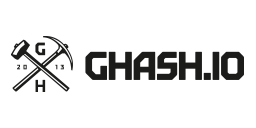 GHash.IO is a Bitcoin mining pool, working in conjunction with CEX.IO Bitcoin exchange since 2013. The company frequently adds new features and expands trading possibilities. GHash.IO offers mining of Bitcoins (merged with NMC) and Litecoins (merged with DOGE).
Connection with CEX.IO
GHash.IO and CEX.IO have the same account credentials, and therefore the pool is considered to be the mining side of CEX.IO. The connection between these two platforms allows users to benefit from simultaneous trading and mining. Mining power (GHS) purchased at CEX.IO mine new Bitcoins at GHash.IO until GHS are sold by the owner.
PPLNS
GHash.IO uses PPLNS ("Pay per last N shares"), a reward scheme, according to which payment is given to shares in a window, starting with the last share submitted and going backwards up to some number N of shares. Shares older than the window are not paid. Shares are hashes, smaller than the target for difficulty of 1 (Usually, pools use such difficulty as the target for share, but technically, any difficulty could be used). Every hash created has a 1 in 232 possibility of being a valid share. In order to get Bitcoins in a more distributed and predictable way, miners use pools. If this is the case, miners are awarded Bitcoins, according to their shares.